About The Museum
MISSION STATEMENT
We preserve our region's heritage and educate the public through our collections, exhibits, and programs to develop an informed understanding of the past.
VISION STATEMENT
We will cultivate an inspired community with an expanded knowledge, understanding, and passion for our past in order to appreciate the present and influence our future.
Welcome
The History Museum began as the Northern Indiana Historical Society in 1867 which makes it the second oldest historical society in Indiana. For years the Northern Indiana Historical Society museum was located in the old 1855 St. Joseph County Courthouse in downtown South Bend. In 1988 we were given Copshaholm, the Oliver Mansion and built a new museum facility on the mansion's property in 1994. We moved from the 1855 courthouse to our new facility in the West Washington Street Historic District in 1994.
In the 1990s our operating name was changed to the Northern Indiana Center for History (later shortened to Center for History). In December 2014 our operating business name was changed to The History Museum.
Since we started collecting our community's history we have accumulated photographs, architectural drawings and blueprints, manuscripts, personal papers, ethnic/immigrant papers, and documents, business/industrial papers and documents, advertising, locally published newspapers dating back to 1830, scrapbooks, military records, bound volumes, and audio, video and film footage. Our archives is expansive and we are also the national archives for the All-American Girls Professional Baseball League (AAGPBL).
Accreditation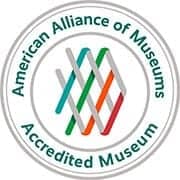 The History Museum was awarded accreditation by the American Alliance of Museums in October 2015 for its demonstration of the highest professional standards for education, public service and collections stewardship, and its commitment to continued institutional improvement. Accreditation places The History Museum at the very top of the continuum of excellence and among a group of fewer than five percent of American museums so honored.
First Time Visitors
When you arrive, please let our Visitor Services staff member know that you are new to the museum. He or she will be ready to answer all questions and cheerfully provide you with whatever information will be helpful to make your visit a wonderful experience.
Make sure you get information about becoming a member, because once you visit The History Museum, we hope you'll return again very soon!
Kids & Families
The cheerful sound of families exploring history at our museum is a welcome one. Families find that the historic houses and exhibits at The History Museum are intriguing and fun. Visits to our museum is very affordable for families because special rates apply to youth 6 – 17, and children 5 and under are free. With free, convenient parking and other amenities, a family visit has much added value. Studebaker National Museum is adjacent to The History Museum, creating an opportunity for a full day of fun. And virtually within blocks are three other museums and several other attractions, providing out-of-town visitors with ample experiences from which to select.
Seniors
For individuals who are 60-plus, The History Museum has special admission rates as well as special membership rates. Seniors might also be especially interested in a monthly program offered, Insights in History. The program consists of a lecture as well as tour of a related area of the museum. The program began in 2004 and has been going strong ever since.