Indiana and Another World War
Beginning in the late 1930s, Germany, Italy and Japan made war on Poland, France, Great Britain, the Soviet Union and other countries. The United States stayed out of direct action in these conflicts until December 7, 1941, when the empire of Japan led a surprise attack on the American Navy docked in Pearl Harbor, Hawaii. The next day, the United States officially entered the war.
World War II affected and changed Indiana in many ways. The almost dormant steel mills in the northwestern part of Indiana went back to full operation producing wartime material. The U.S. Steel factory along Lake Michigan began running 24-hours a day, 7-days a week. Many new factories were also built during this increase in wartime production. In Charlestown, Indiana, along the Ohio River, two factories were built specifically to built wartime goods and suddenly the town's population went from 890 people to 15,000 people!
Just like what happened during the previous wars, Hoosier men and women joined the armed forces. Around 338,000 Indiana men fought in World War II and out of this 13,370 were killed during the war. About 118,000 Hoosier women also served in the military.
During the war there were many jobs that went unfilled throughout the state. Many women left their homes and found jobs in wartime production, this being the first time many of them had ever had a job outside of their home.
Because of the shortage of manpower, many disenfranchised Blacks living in the South migrated in large numbers to the North and many came into Indiana to find work. For many this would be the first time they had the opportunity to work and learn a skilled trade.
Several areas of the state were set up to train new military troops and for testing new military equipment. One of these large training and testing centers was Crane Ammunition Depot in Martin County. Crane Ammunition Depot was built on 63,000 acres of southern Indiana forest.
One of the most famous Hoosier involved in the war was not a soldier. Ernie Pyle was a newspaper correspondent during the war and won several awards for his wartime reporting. Ernie was born near Dana, Indiana in 1900. The main focus of Pyle's reporting was the ordinary enlisted soldier and his experiences so far from home. Ernie Pyle was killed by machine gun fire on April 18, 1945 at le Shima, an island off Okinawa.
World War II finally ended in 1945 with the defeat of Japan.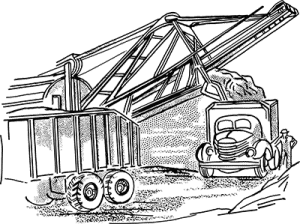 Under Construction-check back soon