Indiana and Michigan Electric Company
Location: 401 East Colfax Ave., South Bend.
Professor James DuShane, Superintendent of schools in South Bend, realized the possibilities of electric power. Through the efforts of DuShane and others the first electric generator in the city was installed in the rear room of a mill located on the West Race. Thus, the South Bend Electric Company was born July of 1882. By October of that same year, the first business establishments in the city were lit by electricity.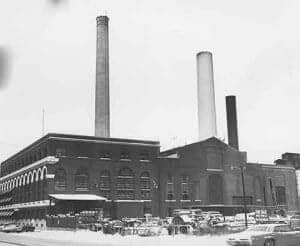 After frequent additions to the mill on the West Race, property was purchased in 1891 on the opposite side of the river on Colfax and a steam power plant was erected. The company bearing the name Indiana and Michigan Electric Company was organized on March 9, 1904. In 1911 the present standing brick building was constructed in the Beaux-Arts style that was popular at that time. Characteristic of this style is the rusticated first floor, the arcade fourth floor, and the heavy cornice pieces. Another story was added to this building in 1940. The one-story transformer house and the 3-story garage were built on this site in 1929. Both of those buildings were demolished in early 2000. The building is now the Commerce Center Building and houses many different companies and organizations.