J.D. Oliver and Family
Joseph (J.D.) Oliver was 34 when he met Anna Gertrude Wells, daughter of a wealthy family of Jo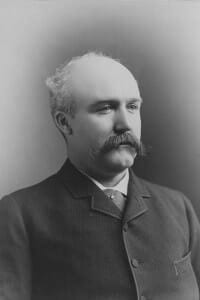 hnstown, New York. Anna had come to South Bend to visit Grace Studebaker, a schoolmate at Madam de Silva's Finishing School in New York. She was 22, tall, aristocratic in bearing, and shy, with a good sense of humor. Joseph, handsome and conservative, also had a good sense of humor. Their storybook romance culminated in marriage on December 10, 1884, in Johnstown, New York, in the north parlor of the Wells home.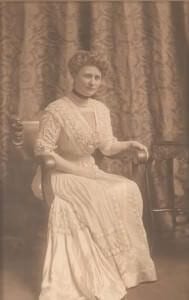 After the wedding banquet and dancing, a special train from the railroad of the bride's father took the bride and groom to Fonda, New York, where they left on a two-month wedding trip to California. Newspapers printed a list of wedding gifts, among them, solid silver tea and coffee sets, silver flatware, salad bowls, ice cream sets, and a $15,000 check from the father of the groom. Upon their return to South Bend, the newlyweds became the first occupants of Oliver Row, where they took up housekeeping in Apartment #1.
The Olivers were staunch Republicans, and in the Democratic sweep of 1884, South Bend citizens elected Democrat George Ford as their representative in Congress. A graduate of the University of Michigan who had been active in local politics, George and Josephine Oliver (J.D.'s sister) had known each other from childhood. The bride and groom were both 39 when they were married November 25, 1885, in the home of the bride's parents. Ford was the first Democrat to enter the sphere of the Oliver family. He retired from Congress in 1887 and resumed his law practice in South Bend. In 1888, he was elected secretary of the South Bend Iron Works. George and Josephine resided in a spacious white frame house on an acre of land at 630 W. Washington Street (now the Oliver Inn Bed and Breakfast). They had no children. Josephine died on May 28, 1914, and George on August 30, 1917.
The children of J.D. and Anna Oliver–James II, Gertrude, Joseph, Jr., and Susan Catherine–had grown up in Copshaholm surrounded by the security of wealth. They were well-educated and well-instructed in Oliver family traditions. Of the four children, the oldest and youngest were to deviate most from the Oliver norm.
James Oliver II
James born November 3, 1885, was active and adventurous as a boy and retained those characteristics as an adult. He attended Michigan Military Academy and Preparatory School at Notre Dame, graduating from Phillips Academy in Massachusetts in 1908. He was elected a director of the Oliver Chilled Plow Works in 1908 at the age of 22 and held various other positions with the firm. On August 16, 1920, he married Louise Potter Yarrington of Richmond, Virginia, the daughter of an industrialist whom he had known for eight years. James and Louise had no children and remained free for lengthy trips to Europe, where he indulged "in his passion for spending money and purchasing paintings," according to one report from that era. James Oliver II died May 20, 1944 at the age of 58.
Gertrude Oliver Cunningham
Gertrude, the second Oliver child, was delicate, thoughtful, considerate and sensitive, qualities similar to those of her mother. She was destined to become the only child to give grandchildren to J.D. and Anna. Gertrude attended private school in South Bend and later Mrs. Davis' Finishing School at Briarcliff Manor at Briarcliff-on-the-Hudson, New York. She was considered pretty, was popular in her social set, and often entertained at Copshaholm, where she met Charles Frederick Cunningham of Patterson, New Jersey. Charles was a graduate of Stevens Institute of Technology. They were married September 30, 1916, in the First Presbyterian Church, South Bend. Charles, who later played a major role in Oliver family affairs, was appointed secretary of the operating committee for general management of the Oliver Chilled Plow Works. In 1920, Gertrude was named a director of the company, a post she held until the company's dissolution in 1929. The Cunninghams had three children–Joseph Oliver, Ann Gertrude, and Fredrika Jane–all of whom were to carry on the Oliver family tradition of service to the South Bend community. Gertrude Oliver Cunningham died December 1, 1987 at the age of 99. Her children gave Copshaholm, the Oliver Mansion, to the Northern Indiana Historical Society (now The History Museum) one year later in honor of their parents.
Joseph Doty Oliver, Jr.
J.D. Oliver, Jr., the third child of J.D. and Anna Gertrude, was born on January 14, 1892. Quiet and studious, he graduated from South Bend Central High School and the University of Chicago, where he earned a bachelor of science degree. A month before his 21st birthday, he was elected treasurer of the Oliver Chilled Plow Works and held that post as well as a directorship until the company was dissolved in 1929. He apparently inherited his father's ability to handle large financial investments and, undoubtedly, was his father's favorite son. After the Oliver company was dissolved, Joseph, Jr. took over management of the many trusts his father had established, and after the death of his father in 1933, he assumed total management of the family's financial affairs.
In 1917, he married Ellinor McMillin of Nashville, Tennessee. She was the daughter of one of the South's best-known Democrats and who had held many high-ranking offices in the U.S. government. She died in 1919 of injuries suffered when thrown from a horse. After his father's death, Joseph Jr. moved into Copshaholm where he resided with his sister, Susan Catherine. In later life, he became a virtual recluse, living in a small apartment on the third floor of Copshaholm. He died on July 6, 1972, at the age of 80.
Susan Catherine Oliver
The fourth Oliver child was Susan Catherine, who was born March 6, 1896. She graduated from South Bend Central High School in 1914, attended the Finishing School of Mrs. Davis at Briarcliff-on-the-Hudson, New York, and received a degree from Finch College in New York in 1916. Catherine never married. She served in the Red Cross during World War I and carried on a number of intellectual and physical pursuits, among them, golf, at which she excelled-even qualifying for the LPGA. She was a good friend of the well-known golf professional Chick Evans. Catherine became a symbol of the liberated woman of the 1920s. There were rounds of parties at Copshaholm, entertainment for as many as 600 guests at South Bend's Palais Royale Ballroom, and lengthy foreign cruises. Though she served as a member of the board of directors of the Oliver company, Catherine took no part in company management.
After the death of her parents, Catherine, like Joseph, lived out her life in Copshaholm: he, in his third floor apartment and she, in a suite of rooms on the second floor. Mostly, they saw each other only at dinner. She died April 19, 1970.