James Oliver & The Oliver Chilled Plow
When James Oliver was born to his parents, George Oliver, a shepherd, and his wife, Elizabeth Irving,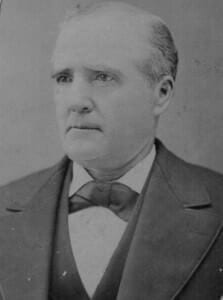 August 28, 1823, in the tiny village of Newcastleton, Scotland, it may have been hard to imagine that this child of humble beginnings would become one of America's most influential inventors and industrialists. Or that James would one day have a son, Joseph D. Oliver, who would also become a business guru and build a mansion in South Bend, Indiana, called Copshaholm
George Oliver was born in 1770 on a farm known as Bleakboneynear in Newcastleton or, as the village was called in ancient times, Copshaholm. Most of Newcastleton's residents were very poor. George was a shepherd, as probably were his ancestors. His wife came from an old and well-known Scottish family, and as a young man, George worked for them.
In 1802, George, 32, and Elizabeth, 21, married. Elizabeth's family did not approve of the marriage, feeling that George, a shepherd, was well below the standing of the Irvings. As a result, the families were estranged for a number of years.
George and Elizabeth had nine children in 21 years. James, the last child, was born when Elizabeth was 42. Six years later when her brother was widowed, Elizabeth undertook raising his four children who ranged in age from infancy to six years old.
The Olivers, extremely religious, were Presbyterians. James learned to read and write in a church school. Cholera struck Scotland in 1832, bringing business to a virtual halt. George and Elizabeth were hard pressed to make ends meets. In addition, George, who had been injured in 1833 while driving sheep to England, was unable to walk without a cane.
In 1830, John Oliver, one of their older sons, restless and penniless, tied up all of his belongings in a red handkerchief and left for America, working his passage as a seaman. He found work at a dollar a day and wrote his family in Scotland in glowing terms. John described his new home in America, telling about a country where firewood was plentiful and in fact, were sometimes in the way. He also wrote about eating meat three times a week. (Actually he ate meat daily, but was afraid his family wouldn't believe that.) He also explained that he ate at his employer's table-unheard of in Scotland. Lured by John's letters, another of the Olivers' son, Andrew, and a daughter, Jane, immigrated in 1834.
All three wrote letters to Scotland describing opportunities America offered and sending money home to their parents. Impressed by this, Elizabeth, then 54, began a campaign to move her entire family to the new land. However, her husband George, who was 65, was content with life as a shepherd. He was too old to move, he declared, and too old to try to do anything but tend sheep.
But George eventually gave in.
The Olivers Leave for America
John, Andrew and Jane had sent back enough money to pay all the family's debts. The family sold their surplus belongings at an auction. The old stone cottage was locked, the key turned back to the landlord, and George and Elizabeth Oliver, with four of their children, Dorothy, 20, Robert, 18 (and sick at the time), William, 14, and the youngest, James, 12, began their journey to America. The oldest son, George Jr., who was married and had a family, remained in Scotland.
The family left their village in March 1835, their few remaining belongings piled on carts. Neighbors accompanied them the first two miles on their journey to Annon, Scotland, a waterfront town near the border of England. They covered 12 miles the first day and reached Annon the second day.
On the third day, the Oliver family boarded a cattle boat for Liverpool. The decks were so crowded with sheep and cattle that planks were placed over the animals to form a crude bridge on which passengers walked to get to their makeshift cabins. Although the boat reached Liverpool the next morning, the seas were too rough and the ship couldn't reach the dock. Terrified passengers were loaded into boats and rowed to shore. They were to set sail from Liverpool the next day aboard the ship "Halo" and spent a sleepless night at a public house. The family worried that they wouldn't be allowed to board the ship because William was sick, but his illness was overlooked and they sailed for America on April 3, 1835.
The trip to New York took seven weeks and four days, with severe weather causing a rough crossing of the Atlantic. For the first three weeks most of the passengers, many of them seasick, remained below deck. Two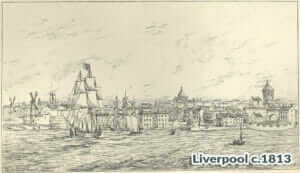 deaths occurred, one from the dreaded smallpox virus, and the bodies were buried at sea. James got in trouble by asking the captain to explain how the dead people could ever be found on judgment day. Elizabeth was forced to stay cabin-bound because of her lame husband and sick son.
James, however, ran the decks, climbed the rigging, and mixed with the sailors.
One day, while the ship was been tossed in rough seas, George declared that there was no way they were going to see America. James wasn't worried, however. He explained that the sailors on deck were swearing and surely wouldn't risk eternal damnation if death were actually near.
The ship finally reached New York. The Olivers, accustomed to the beauty of Scotland, thought New York looked unattractive. They spent little time there, leaving soon by a steamboat on the Hudson River to travel to Albany, New York. They noted that the steamboat burned wood and stopped every few miles for fuel.
While on the boat, the Olivers ate oatmeal, brown bread and smoked bear meat. At Albany, where a Native American sold them sassafras for tea and dried blackberries, the family began a 17-mile railroad trip northwest to Schenectady, New York. The historic locomotive DeWitt Clinton was attached by a leather hose to a railcar that held large piles of wood and several barrels of water for making steam. Behind this railcar were three first-class cars resembling stagecoaches and four "emigrant" flatcars equipped with wooden benches, on one of which that the Oliver family rode.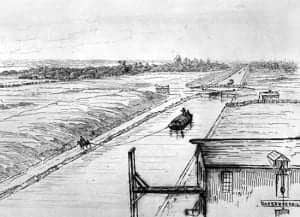 At Schenectady the Olivers took a boat on the Erie Canal that had been completed just a few years earlier. After a three-day journey they changed boats at Montezuma, New York and continued to Geneva, New York, to the farm of James Goodwin, father-in-law of John Oliver, the first of the Oliver sons to leave Scotland. The Olivers made the seven-mile trip to John's small log-framed farmhouse in two days.
For the first time, the Olivers had plenty to eat-meat at every meal, potatoes, onions, and a food the Olivers had not seen before: corn on the cob. James, thinking the corn on the ear was a new way of cooking beans, cleaned off the cob and asked that the "stick" be refilled.
The long journey had taken its toll on the Olivers' pool of money and by this time, it was nearly all spent. With finances a major concern, James began working as a chore boy at a nearby farm for 50 cents a week and board. Using a neck yoke, he carried lunch to field workers, chopped wood and did other menial tasks for his employer. Because James was ignorant of American farm life, he did could not hitch a horse to a wagon, mistakenly pulled up corn by the roots looking for the ears, and had never seen a cook stove and had no idea how to use one. However, his employer liked his energetic ways, and when James finally had to leave, his boss offered to triple his wages if he'd return.
That autumn, James moved with his family to Alloway, New York, a small town settled by Scottish immigrants. Here they resided on a farm until the next summer. Prompted by the wish to obtain inexpensive land available in the Midwest, the Olivers moved from Alloway to LaGrange County, Indiana in 1836. The trip, by boat and wagon, took 21 days.
Meanwhile, their daughter Jane, who had left Scotland in 1834, had married Charles Roy, who owned 60 acres in Clear Spring Township, LaGrange County. Son Andrew, who also left in 1834, had obtained 160 acres of virgin land from the government. James and others in the family set about to help him clear this land.
The Move to Mishawaka, Indiana
In that era, Mishawaka was known as St. Joseph Iron Works because of what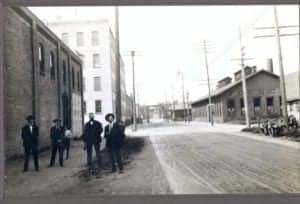 appeared to be inexhaustible deposits of bog iron from which castings could be made. In December 1836, several of the Oliver children, including James, moved there, probably prompted because of better opportunities available there. The St. Joseph Iron Company, for which the town was named, was attempting to build a dam across the St. Joseph River. James worked there for $6 a month until the spring of 1837, when a depression left the company without ready cash.
James attended George Merrifield School for a brief time, quitting to help support his mother after the death of his father on September 6, 1837. Attempts to help his mother led to many jobs and adventures. He cut and sold wood, did menial chores, labored as a farm hand, and, at one time, worked for Alexis Coquillard, a South Bend pioneer who was attempting to dig a canal to link the Kankakee and St. Joseph Rivers. Sleeping in a shanty while wolves howled nearby proved too much for him. James became ill with a type of malaria and quit.
Later, James also worked as a pole man on a keel-boat, hauling wheat on the St. Joseph River to Lake Michigan. He liked the work but when the captain was arrested for defaulting on debts, James lost his job, wasn't paid and walked the 15 miles from Niles, Michigan, to his home in Mishawaka.
James and his brother Andrew then found work in a small foundry owned by the South Bend Blast Furnace Company of Mishawaka. There James learned to scratch castings and cast molds, but the company failed in 1840. In the following years he chopped wood, dug ditches, and cared for 500 hogs that he fed garbage from a gristmill owned by the Lee Brothers. Later he worked in the gristmill, packing flour into wooden barrels for $15 a month. The Lee brothers found him highly industrious and asked him to take up the trade of a cooper in the shop where the barrels were made. Here he gained considerable knowledge as a carpenter.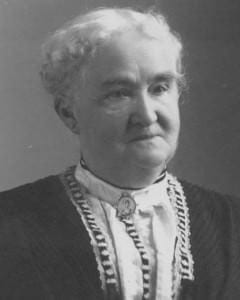 Joseph Doty, a direct descendant of the Mayflower pioneers, worked with James. After the death of his wife, Joseph moved from Berrien County, Michigan, to Mishawaka with his daughter, Susan Catherine. James, 20, inclined to be bashful, became enamored of Susan Catherine, 19. Although she rebuffed him several times, he persevered and won her hand the following year. James traveled by raft down the St. Joseph River to South Bend where he obtained the wedding license, and James and Susan Catherine were married May 30, 1844.
James and Susan began married life in a slab cabin on the banks of the St. Joseph River near Alger's Island in Mishawaka. They purchased the cabin for $18 and paid $7 annually for the land on which it stood. While James improved the cabin (the best lumber cost $6 per 1,000 board feet), Susan wove rag carpets on a borrowed loom. They lived in the cabin eight months, which James later described as "the happiest days of our lives," and then sold it for $50. The transaction, which took them into $450 in debt, brought them a house and three-fourths of an acre of land on the north side of the river.
Meanwhile, the gristmill where James was working was destroyed by fire. James had to work for considerably less than $15 a month until the Spring of 1845, when he went to work in a blast furnace owned by William Gillen. There, James learned the molder's trade. In 1852, James and Susan sold their house, purchasing a larger home along with ten acres of orchard on the south side of the river. The site adjoined the Lake Shore and Michigan South Railroad (later the New York Central) that had been built a year earlier.
James and his wife Susan soon needed more room in the new home they had purchased in Mishawaka. A daughter, Josephine, had been born April 6, 1846, and a son, Joseph Doty, called "J.D.," had arrived August 2, 1850. They resided in this home until 1858 when they moved to South Bend.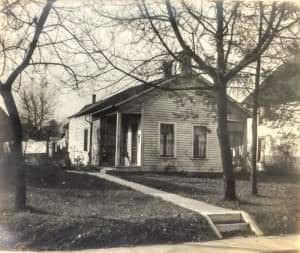 After William Gillen's furnace failed financially in 1847, James went to work for the St. Joseph Iron Company that made plows as well as castings. Here James seized an opportunity to better himself financially. Among the castings produced were 22-pound flanged plates used beneath railroad joints for strength. The company was unable to meet production schedules because of the inability of molders to cast the plates according to specifications. James contracted with the company to produce 100 tons of the plates for $5 "and five shillings" a ton. He completed the contract and produced 35 tons more in four months. He made $675. James later admitted he almost killed himself doing it, but this contract and the earlier purchase of a lot in Mishawaka for $75 where he built a house and rented it to a merchant were two events which gave him his start.
The St. Joseph Iron Company also manufactured cast iron plows, as did almost every foundry and blacksmith in the country. For James, plow production provided a link between the foundry, which he loved, and the land, for which he harbored an attachment stemming from boyhood in Scotland. However, James became apprehensive about his future when the St. Joseph Iron Company changed hands and he decided to investigate the possibility of buying into a small business. While waiting for a late train in Goshen, Indiana, a major plow manufacturing center, he inadvertently heard that a small foundry on the west race in South Bend, owned by Ira Fox and Emsley Lamb, might be for sale.
James' Beginnings in Plow Manufacturing
By May 5, 1855, James Oliver and a molder co-worker, Harvey Little, each purchased one-fourth interest in this building. Cast iron plows were one item this little foundry produced. James was 32 years old, South Bend's population was less than 2,000, but the company, the town and James were destined to grow together despite considerable adversity.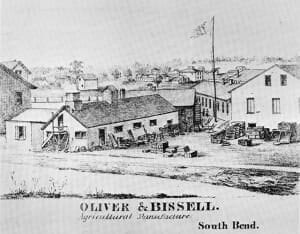 Six weeks after the purchase of the foundry, it was devastated by rampaging waters of the St. Joseph River. James referred to this in later life as his "first great discouragement." Oliver and Little managed to survive and the plant went back into operation in November of 1855. Oliver and Little then purchased Lamb's half interest and renamed it South Bend Iron Company. That name appeared on the title page of their first book of accounts.
February 6, 1857 high water again damaged the plant, but Oliver and Little were undaunted and the plant soon was back in production. They bought scrap iron for one and a quarter cents a pound and converted it to almost anything that could be made of cast iron at a charge of five cents a pound. They made iron window weights, caps and sills for windows, kettles, spiders (frying pans with legs and long handles), pulleys, stove castings and grates. They also produced bob shoes (metal strips that fit on sled runners) for the fledgling Studebaker Brothers Company.
James, molder, designer, salesman and bookkeeper for the company, also continued experimenting with ways to produce a better plow. All plows of that era were "walking plows." Pulled by two horses (or other beasts of burden), the farmer walked behind and guided it through the soil with two handles. Cast iron and steel plows both wore out rapidly. Dirt stuck to the moldboard and made it difficult for the animals to pull. This forced the plow from the ground with a jerk, endangering the plowman. The dirt had to be scraped from the moldboard with a paddle every few minutes.
June 30, 1857, James obtained his first patent from the U.S. government, entitled "Improvement in Chilling Plow Shares." It covered a new way to process a plow point, or share, to an extremely hard surface. This was his first improvement in the plow. Many were to follow and the Oliver Plow became the most popular plow in the world.
To get nearer to the plant, the Oliver family moved in 1858 from Mishawaka to an old brown frame house purchased for $600, on unpaved Main Street near downtown South Bend. In 1868 the house was moved to the back of the lot and a larger structure of brick was erected.
So successful were Oliver and Little that they were able to advertise a reward of $500 to anyone who could, "chill or harden plowshares with equal success without infringing on their patent." The firm was renamed "Oliver, Little & Co." in 1860 when Thelus Bissell, a machinist, was taken into the partnership. Each now owned a third interest in the firm. But on Christmas Eve, 1860, disaster struck again. Fire destroyed their plant on the West Race with an estimated loss of $4,000, a fortune in that era. They carried no insurance. James Oliver later branded this event his "second great discouragement."
By March 1861, Oliver, Little & Co., had succeeded in erecting a building on the West Race where operations were resumed. That year they produced, in addition to plows, six "fluted columns" weighing 4,902 pounds for Saint Mary's college, two "iron columns" for Schuyler Colfax, "brackets and vestibule cornice" for the city jail and "sewer crates," also for the city. Window weights, more than four tons of columns, cornices and stairs were produced for a contractor. The plows sold for $6.50 each. Business was improving and more buildings were acquired on both sides of the race.
In 1863 Harvey Little retired from the firm. Thelus Martin Bissell acquired half interest in the company, now renamed "Oliver and Bissell," and James Oliver acquired the rest. That summer about 20 men were on the payroll, and demand for the plows was such that the price was increased to $7.50 and the business continued to expand.
Oliver and Bissell realized they needed more capital. George Milburn, a wealthy wagon manufacturer in Mishawaka, purchased a third interest in the company, with Oliver and Bissell retaining one third each. The company was, once again, renamed "Oliver, Bissell & Co." and the work force increased to 25. Wages ranged from $1 to $3.50 per day.
Approximately 1,000 plows were produced and sold in 1864. Of these, 100 were the patented steel share plows that sold for $17.50 each. They also made hundreds of "double shovels" and some 25-road scrapers for which they received $8 each. Castings were sold for 10 cents a pound. The Civil War was in progress and prices continued to rise as demands for production increased. The company also made 70 iron columns for the Main Building at Notre Dame, after a disastrous fire consumed the old one. These columns hold up the Golden Dome structure on the University of Notre Dame's Main Building.
From this period of the Oliver company history the expansion was phenomenal. By mid-1865 the staff again had been increased to plant capacity and all on the payroll were working overtime. Meanwhile, Joseph (J.D.) Oliver, James' son, was getting in on the company's ground floor.