Kamm and Schellinger Brewery
Location: 700 Lincolnway West, Mishawaka
John Wagner began operating a brewery in Mishawaka around 1853 and Adolph Kaamm and Clemens Dick purchased it from him in 1870. Both men had their family homes built on the brewery property. The brewery workers lived in the brewery itself and Mrs. Kamm prepared their meals. In 1880 Dick sold his interest to Kamm and Kamm's brother-in-law, Nicholas Schellinger. Both of these men were originally from Wirtenburg, Germany. The K&S Brewing Company was incorporated in 1887.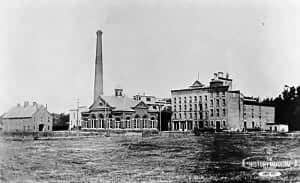 The brewery workers built the ice house, ice storage building, and malt and yeast rooms. They were originally wood frame structures but later acquired brick fronts. The wagon storage, stables, and boiler house were constructed between 1896 and 1901. By 1900 the annual output was 30,000 barrels of beer yearly. During Prohibition the brewery changed both its name and its products. They manufactured K&S Root Beer, Emral, Arrow Cereal Beverage, soda pop and distilled water. In 1918 Nicholas Schellinger died and 10 years later his family sold their interest in the company. Kamm's sons ran the company until its closing in 1951.
The brewery buildings at 100 Center have been readapted to commercial uses. Original interiors and equipment can be seen inside the many shops and restaurants on the property.