The Studebaker Manufacturing Company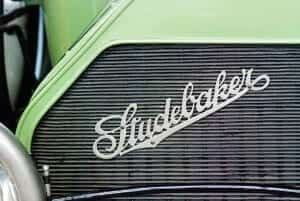 The father of the Studebaker brothers, John Studebaker, was the son of Peter Studebaker, Jr. John lived in Adams County near Gettysburg, Pennsylvania, where in 1830 he bought property in which he built a brick house and a shop where he pursued his trade as a blacksmith and wagon maker. He had a reputation as a conscientious and skillful workman. John decided, along with many other residents, to move west and grow up with the country. He built a covered wagon of the Conestoga pattern, the bed or box of which had an enormous carrying capacity. The top bows bent forward and backward respectively, and were covered with waterproof duck cloth. Four strong horses drew the Conestoga wagon that contained the family, consisting of the father, John, his wife, Rebecca Mohler, whom he had married in 1820, and six children, two of whom were the boys, Henry and Clem. They landed in Ashland, Ohio where John built another home and opened another blacksmith shop. Another four children were born while in Ashland, making the family equally split, five boys and five girls.
When the older boys became adults, their father urged them to become independent and make a life of their own. Around 1850, Henry and Clem left Ashland and traveled overland to South Bend, where Clem taught school and worked in a blacksmith shop for 50 cents a day. John M. (J.M.) soon followed his brothers to South Bend, and Peter E. became a merchant in Goshen, Indiana. Jacob was the last brother to immigrate to South Bend. The Studebaker sons soon brought their parents and sisters to South Bend, where John, their father, died in 1877 and their mother in 1887.
Henry, aged 26, and Clem, aged 21, established the company of H & C Studebaker, blacksmiths and wagon builders, with $68 and two forges. J.M., aged 19, had joined them with the intention of become a partner in their company, but the discovery of gold in California called J.M. He left his brothers and South Bend for Eldorado in quest of wealth. Henry and Clem built J.M. a sturdy covered wagon for his trip, which J.M. traded to a wagon train for his passage and board. The Studebaker wagon made the journey in good condition and arrived in California five months later in August 1853.
Henry and Clem needed financial capital and begged J.M. to come home and join them in business. After J.M. had been in California for five years, he decided to travel back home to South Bend. J.M. had done well with his business in California and came home with $8,000 in gold nuggets. He used this money to buy out his brother Henry, who wanted out of the Studebaker business so that he could farm. J.M.'s money established and assured the future of the firm of H & C Studebaker.
J.M. was in charge of the manufacturing department of the Studebaker
Company for 45 years, during which time he personally supervised the building of nearly all vehicles that left the factory. He built into these products his sturdy, honest character, and thereby established a worldwide confidence in Studebaker vehicles. Upon the death of his brother Clem, J.M. succeeded to the presidency of the company. J.M. was the last of the Studebaker brothers to die on March 16, 1917 in South Bend, at the age of 83.
Peter, the fourth brother, who had been a merchant in Goshen, Indiana, joined the Studebaker company and worked with the management of the company. He was put in charge of sales, and opened branch houses (dealerships) as sales expanded. The first was in 1870 at St. Joseph, Missouri, to handle the business of the pioneers whose wagon trains and expeditions to the far West were crossing the country in large numbers. Peter died in 1897 at the age of 61. He was the Vice President of the Studebaker company at his death.
Jacob joined the company as a salesman, and served in important offices until his death at the age of 43. The Studebaker Automobile Company closed its automotive plant here in South Bend in December 1963.
To learn more about the Studebaker company visit http://www.studebakermuseum.org