South Bend Bait Company
Location: 1108 S. High St., South Bend
The South Bend Bait Company grew out of a small company founded by Frank G. Worden, who manufactured bucktail fly lures in his home. Not much is known about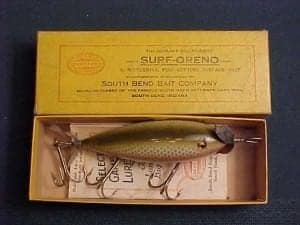 Worden's early life or his activities after leaving South Bend. In addition, the National Freshwater Fishing Hall of Fame also credits Worden with introducing propellers fore and aft on wooden lures, an innovation that other lure manufacturers adopted in 1907.
Worden first appears listed in the South Bend city directories in 1896 as an agent for the Grand Union Tea Company and lived with an Alexander Worden at 850 Forest Avenue. By 1901, Worden had married, was living at 419 North Stover (now Cottage Grove) Street, and was no longer with Grand Union Tea Company. For the first time he was listed as the proprietor of the Worden Bait Company, although several sources claim that he was manufacturing lures during the 1890s. The company apparently operated out of Worden's home in its earliest years. Frank Worden received financial assistance from J. Willard Shidler of Shidler Brothers Hardware and by 1905, the Wooden Bucktail Manufacturing Company was located on the second floor of the hardware store at 131 South Michigan Street. This arrangement did not last long, as by 1906, Jacob Kuntz, owner of the South Bend Dowel Works had become Worden's partner and the company moved its operations to 402 South Michigan Street. South Bend Dowel Company became the supplier for the red cedar blanks for Worden's wooden lures, an arrangement that would last, at least, until the 1920s and possibly much longer. The Kuntz family took over the business in 1908 and the company operated at the South Bend Dowel Company plant. Frank Worden was no longer listed in the directory and may have gone to New York.
In January 1909, Jacob Kuntz changed the name of his company to the South Bend Bait Company. The company continued to operate at the dowel works building. In June 1910, three South Bend men; Fred Dennis, F.A. Bryan, Burton Oliver, and Malcolm Carrington, of Pittsburgh, took over the South Bend Bait Company. Their announced plans included adding rods and reels to the company's line of products which, at that time, included wooden minnows, bucktail lures, and hooks. Burton Oliver became company manager. Despite their plans, business was rather poor and the company only had about four employees with sales about $7,300. The company moved out of the dowel works building to an old house on the corner of Lafayette and Colfax streets in downtown South Bend and about 1911, the owners hired Ivar Hennings, a 28 year old credit manager from Westinghouse Electric Company in Chicago as manager. Bryan and Dennis, officers at the Indiana and Michigan Electric Company in South Bend, may have met Hennings through the electrical company connections. By 1912, the company moved down the street to the second floor of the old St. Joseph Hotel which had become a center of light manufacturing. Local attorney A.G. Graham was added to the board.
Ivar Hennings and an unidentified partner bought out the other owners in 1915 and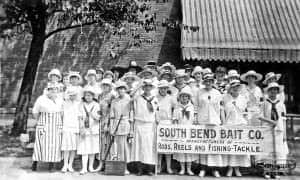 in 1916 he acquired the right to a patent of James Olds of Benton Harbor, Michigan, for a lure which was to become the Bass-Oreno, the most popular lure made by South Bend Bait Company. The company soon employed about 50, mostly women, and made both wooden lures and the bucktail lures. The volume of bucktail lure production required keeping about 25,000 deer tails on hand. In 1917, South Bend Bait published its first catalog, The Days of Reel Sport.
Other than Ivar Hennings, information is sketchy on the early management of the South Bend Bait Company. Harold Stream joined the company as bookkeeper in 1916 and would remain in various capacities until the 1960s, eventually becoming Chairman of the Board. Other officers in South Bend Bail Company during these early years included: Claude Campbell of South Bend Chilled Plow Company who was company secretary in 1916, and William Holland of Sibley Machine and Foundry who became Vice-President by 1919. F. Austin Cass, who received the patent for the Pike-Oreno lure, became Vice-President by 1921. Bernard Voll, also of Sibley, was listed as Director in 1922. Also, during 1922, John Pagin joined South Bend Bait Company as Vice-President. The officers stabilized and Hennings, Pagin, Graham (who returned as secretary by 1921), and Stream (who had been appointed Treasurer) continued in office until the deaths of Pagin and Graham in the 1930s. When Ivar Hennings married Helen Fisher in 1928, she became a director of the company also.
About 1922 South Bend Bait Company acquired Cross Rod and Tackle of Lynn,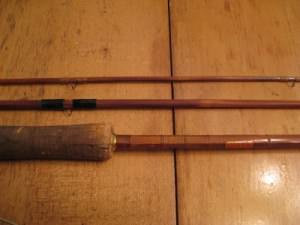 Massachusetts, a manufacturer of quality bamboo rods. In 1923, manufacturing operations moved to South Bend bringing with it key management and manufacturing personnel. With the installation of Cross Rod here, South Bend was making split bamboo and steel rods, and wooden and bucktail lures. During most of South Bend's history, Shakespeare of Kalamazoo, Michigan, manufactured South Bend Bait Company's fishing reels, but when this arrangement started is unknown. By 1928 the company have 400 employees.
During the 1920s Ivar Hennings became involved in industry and conservation organizations and he was elected to the presidency of the Indiana Chapter of the Izaak Walton League in 1929. He was elected Vice-President of the Fishing Tackle Manufacturers Institute in 1930. This latter organization would become the Associated Fishing Tackle Manufacturers and would write the NRA codes for the fishing tackle industry.
The increase activity of the business allowed expansion of the factory. In 1920, South Bend Bait moved to 1108 South High Street, the former Miller-Knoblock wagon factory which had most recently been the Burn-Oil engine plant. About 1930 the company remodeled and added to these facilities and did further remodeling in 1935. By the time these modifications were completed, the factory buildings had a streamlined up to date façade, although interior views prove that the factory's interiors were a motley of new and old construction. The company also established a Canadian subsidiary in 1930 with a plant at Coburg, Ontario and business offices in Toronto. However, this was a short-lived proposition and Canadian and American operations were merged in 1934.
Business was reasonably good during the Depression as evidenced by the plant expansion described above. One former company official attributed this to the unemployed purchasing fishing equipment in order to catch fish and provide for their families. Research and development continued and in 1938 the company introduced OBITE lures and in 1939 the Peach-Oreno was patented. During the Depression, Ivar Hennings offered to make good any employee deposits at a savings and loan company where he had been an officer. He apparently felt obligated to do this, since he had heavily promoted the saving and loan among employees. Employment did increase, down to 250 in 1935 from the 400 mentioned in the late 1920s and hours decreased, somewhat, for those remaining employed. Employees became a part of the United Furniture Workers Union, in conjunction with employees at nearby South Bend Toy Company. They staged two strikes in 1937, one of them a sit-down strike. Working conditions in the plant, as well as pay, were issues in the strikes.
Following the deaths of John Pagin and A.G. Graham the company management changed. William Leusch, a brother-in-law of Mrs. Hennings, joined the company as a sales representative, becoming factory manager in1936, and Vice-President of manufacturing in 1940. Heyward Gibson joined the company in 1932 and became a Vice-President and advertising manager. Hennings, Leusch, Gibson, and Harold Stream were referred to by employees at The Big Four and were apparently well respected. Ivar Hennings became Chairman of the Board by 1940 in order to devote more time to outside interests and Stream became President as well as Treasurer. Bertha Conway, the company office manager, filled the post as Corporate Secretary, but it is doubtful whether she had any real authority. Like Hennings, most of these officers were active fishermen and involved in conservation groups such as the Izaak Walton League.
During World War II, bait production stopped, although the company produced red, white, and blue lures for bond drives and other similar purposes. By early 1942, South Bait turned to war production subcontracting to major producers, such as Bendix, and making small machined parts. Clarence "Larry" Haffner handled most of the defense contract negotiations for South Bend Bait during the war, assisted by long-time employee Ralph Paige. Following the war, Larry Haffner became company Treasurer, leaving Stream as President.
The pent-up demand for fishing tackle following the war was very good for South Bend Bait's business. The company felt that production could not be accommodated in the South Bend plant and built plants in Spencer, Maquoketa, and Estherville, Iowa. All bait production was moved to Iowa before 1950 and also the company's early experiments with fiberglass rods. Basically, bamboo rod production was all that was left to be produced at the South Bend plant.
On November 11, 1950, South Bend Bait received a shocking blow with the death of 68 year old Ivar Hennings. Hennings had always been the creative leader of the company and there seemed to be no one to fill the void caused by his death. Hennings' considerable holdings in the company came under the control of First Bank and Trust Company as trustees for his estate. Judd Leighton of the bank was added to the company's board. The consulting firm of Booz, Allen, Hamilton was bought in to advise about company operations and they recommended retaining additional management. A number of changes occurred during 1953 as a result: William C. Martindill was brought in as Executive Vice-President, and soon after, Gerard Brooks joined the company as Vice-President. Mrs. Hennings became Corporate Secretary, and Larry Haffner resigned. In 1954, Harold Stream became Chairman of the Board and Martindill became President; John Macy was added to take charge of research and development. Heyward Gibson retired and a few months later, Bill Leusch moved to customer relations.
Although bamboo rods had been the mainstay of the company's rod business since the purchase of Cross Rod in the early 1920s, by the early 1950s fiberglass rods had become very popular with the public. In addition, the public was demanding spinning reels instead of casting reels. Booz, Allen, Hamilton and the company's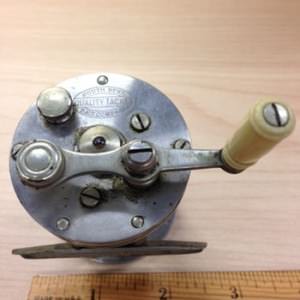 new management recommended developing products to meet these new demands. This entailed completely changing the company's products. As noted earlier, much of the company's manufacturing had been moved to Iowa. Bamboo rod production was just about all that had been left in South Bend and with the decision to eliminate bamboo rods, South Bend became the general office, warehouse, and customer service center for the company. In 1955, the company's name was changed to South Bend Tackle to dispel the image of live bait given by the company's original name and to let the public know that South Bend marketed a full-line of rods, reels, lures, and accessories, as it had for over 30 years.
These changes apparently did not affect enough of a change in the company's fortunes. There was a great deal of pressure on the tackle industry as a whole by imports, as well as, changes brought about by the public demand for the new fiberglass and spinning reels. The management style of the new "professional managers" contrasted greatly with the old style under Ivar Hennings. Long-time employees still blamed many of the company's problems during this time on the abrupt changes brought about because of Hennings' death. They felt that the new management did not enough of a feel for the sport of fishing and the company's products. At any rate, by 1957, William Martindill decided to leave South Bend Tackle, after he had made an unsuccessful offer to purchase the company. Gerard Brooks became President. However, he also left the company in late 1958 when Seymour and Benjamin Fohrman of Chicago purchased South Bend Tackle. The Fohrmans held interest in South Bend Toy and a local too and die manufacturer as well.
The Fohrmans moved company headquarters to Chicago. A company subsidiary called Fishing Tackle Products operated at 1108 South High Street, but it is unclear as to exactly what this subsidiary did. The company operated in this manner, with headquarters in Chicago and manufacturing in Iowa, until about 1962 when the Fohrmans gave up their management responsibilities. Harold Stream came back to the company as Chairman of the Board and H.S. Burstein became President. The company suspended operations in Spencer, Iowa and moved production back to South Bend. However, during the 1950s and 1960s, South Bend subcontracted many operations, so many products were made by other companies. South Bend also made many private label products (for Sears and Montgomery Ward) and some items for competitors. Shakespeare produced South Bend's reels and South Bend produced Shakespeare's rods. During 1964 Gladding purchased South Bend Tackle and merged four rod and tackle companies with South Bend Tackle. Over the next year they moved production to other plants and suspended operations in South Bend, claiming that the plant was uneconomical. This closing resulted in the layoff of 90 production workers, of which 75 were women.
Gladding continued to market "South Bend" rods until it went out of business in the mid-1970s. "Genuine South Bend Wood Lures" were made and sold by the Lhur-Jensen Company of Hood River, Oregon for a time. Today, a variety of fishing tackle items are sold under the South Bend name by a company in Chicago.